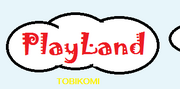 PlayLand is a game produced by Tobikomi. The game is set in a land of imagination and crazy fun. As of September 19th, it will be in Litwak's Arcade.
Plot
Welcome to a land of crazy pranks. You can customize your character and go through various places full of fun. Interact with characters such as Cocochi the coconut, Jumpinno the bouncy ball, and many others. 
Stages
Jetpack Ride
The Sea Poll Balls
The Bouncy Jungle
The Flight of Vegetables
The Slide
Music Race
The Coconut Castle
The Final
Coming Soon...
Ad blocker interference detected!
Wikia is a free-to-use site that makes money from advertising. We have a modified experience for viewers using ad blockers

Wikia is not accessible if you've made further modifications. Remove the custom ad blocker rule(s) and the page will load as expected.