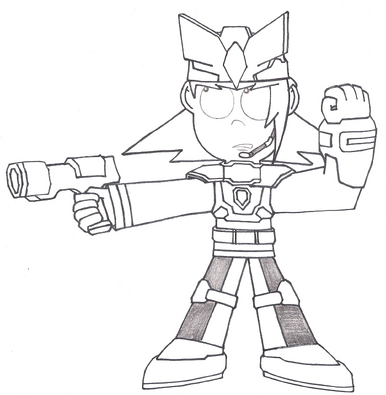 Psyrazer
is a Russian cybernoid agent and Cyber Guy's special sidekick and companion in Cyber Hero series. First appeared in
Wreck This Show!
episode "Vanellope and the Cyber Hero". He got brainwashed by Taffyta to beat up Cyber Guy. In the episode "Friends Made Changes", he become Taffyta's cybernoid companion after she befriended with Vanellope and he will no longer to defeat Cyber Guy again.
He returned in Wrecking Show!, but he did not appear in Wrecking The Big Show until the third season.
Biography
Psyrazer: The Siberian Crusader
"Psyrazer is one of the cybernoid agents that first appeared in the original planned series called "Cyber Hero". He assists Cyber Guy during his mission. Before he joins the Blue Diamond Union, he was a former member of the Yokawan Federation who works along with Cyber Guy and the other agents.
Trivia
In both episodes "Vanellope and the Cyber Hero" and "Vanished Rivals", he got brainwashed by Taffyta Muttonfudge in attempt to destroy Cyber Guy while in "Friends Made Changes", he become Taffyta's trusted cybernoid companion as soon as not to beat up with Cyber Guy again according to Dr. Element.
In his Holiday card appearance, he wears a light blue Russian trooper hat known as Ushanka and a jacket with a blue scarf.
Quotes
Gallery
Ad blocker interference detected!
Wikia is a free-to-use site that makes money from advertising. We have a modified experience for viewers using ad blockers

Wikia is not accessible if you've made further modifications. Remove the custom ad blocker rule(s) and the page will load as expected.