Revenant (known as 'Rev' by her friends) is a female racer in the Living Dead Raceaway (Game) and is unlocked in the Alice In Deathland level with Jennocide.
Death Certificate
An image from the past, she roams eternally, Reliving the horrid night of a twisted tragedy. To gaze upon this ghost, you'll witness her demise, For she is a harbinger of death as you will surely realize.
Biography
Revenent:A girl with a cracked heart
Revenant was as jolly as a bee,until a car crashed into her.Her eyes bled and bled until,the doctors says Miss.Revenent you eyes need to be taken out! Revenant was scared,she was horrifighed,but the doctors didn't know that she was dead.This little lost sole still has eyes,but they are black and as evil as ever!
Revenent's racing kart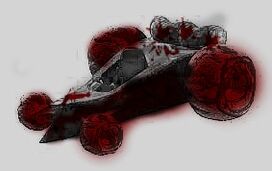 Revenent's racing kart is called the Cracked Skin it is meant to be a blood-cherry pie and it is made of dead-skin and has blood all over the wheels,this proves the wheel-skin has                    cracked open and has began to bleed.
Memorable Quotes
OH NO I MUST BE RELATED TO THE ZOMBIE-GLITCHIE BECAUSE I GL-GL-GLITCH TOO! (Revenent teasing Betsy)
WAHHHHHHHH! I thought you were my friend,Charlotte!
​Trivia
It looks like her eyes have been gorged out,but they have not.

She has a pet vulture.

She has a recolour called Genie.

She died from a car crash.

 
Ad blocker interference detected!
Wikia is a free-to-use site that makes money from advertising. We have a modified experience for viewers using ad blockers

Wikia is not accessible if you've made further modifications. Remove the custom ad blocker rule(s) and the page will load as expected.