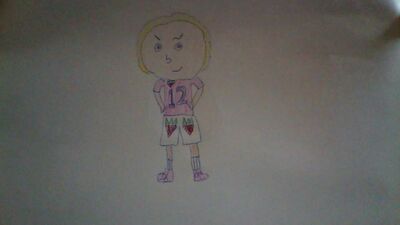 Samuel Muttonfudge is a brand new racer in Sugar Rush.He is Strawbetty Muttonfudge's younger brother,and Taffyta Muttonfudge's son.He is 7 years old.
Him and his older sister
Samuel and Strawbetty work well together while bullying people,Samuel always looks up at his older sister and is very proud of her.When Floss Cottine and Strawbetty's friendship was not running smoothly,Strawbetty forbidded Samuel to go near Floss' younger brother and sister Freddie Cottine and Fluffy Cottine,this meant Samuel could not hang out with his best friend Freddie any more,but Floss soon saw Samuel and Freddie's pain and had a chat with Strawbetty about how they need to be friends and not hate each other,Strawbetty soon saw that Floss was right,as they immedietly became close friends,as Floss and Strawbetty was chasing after Jack O' Brigadeiro,Strawbetty noticed Samuel and Freddie crying because Strawbetty forbidden them to see each other again,Strawbetty soon told Samuel that her and Floss are now close friends and Samuel and Freddie can now be friends.
Gallery                                  
Trivia
He is part of Sugar sisters and Sour Brothers (the project).
Ad blocker interference detected!
Wikia is a free-to-use site that makes money from advertising. We have a modified experience for viewers using ad blockers

Wikia is not accessible if you've made further modifications. Remove the custom ad blocker rule(s) and the page will load as expected.