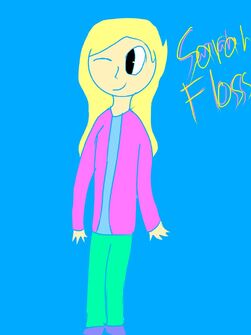 Sarah Floss is a racer in Sugar Rush she is very happy and sometimes she is very bossy
Personality
Sarah Floss is the most happiest racer in Sugar Rush and sometimes she can be so bossy.
Bio
Sarah Floss:Happy and Bossy racer:
Sarah Floss can be happy sometimes bossy but she does not bully other racers she is the opposite of Bubbly Tea while Bubbly Tea loves gems Sarah Floss loves Sea shells.
Quotes
Wow!! Sea shells
Bubbly Tea do you wanna throw a party
get on people Bubbly Tea is almost her party
Yeah! Just get over it Gloyd!
Yeah! Sorry but you did not reserved for this party Taffyta
Candlehead and Rancis you are in the party list go ahead enjoy!
Trivia
She is friends with Bubbly Tea and Candlehead
She loves Gloyd
She hates Taffyta Muttonfudge
Sometimes when Bubbly Tea is hanging out with Adorabeezle she will be jealous
Creation
She is created by Yukihide Washimura .
Gallery
Ad blocker interference detected!
Wikia is a free-to-use site that makes money from advertising. We have a modified experience for viewers using ad blockers

Wikia is not accessible if you've made further modifications. Remove the custom ad blocker rule(s) and the page will load as expected.