Smartiecat is a Treat Zoomway racer,she seems to be quiet and a little bit evil, and she seems to lounge around a lot.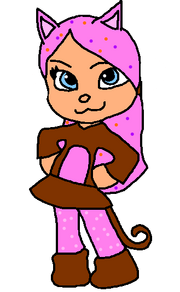 Personality
Smartiecat is really smart and points things out when she feels like it, she is mostly a backgrounder and a quiet one. Everybody does not seem to mind about Smartiecat listening to their conversations, sometimes when something bad happens in Treat Zoomway,Smartiecat seems to get more invovled more. Her only close friend would be Roxi Roloz. The only Treat Zoomway racer who seems to annoy her is Robyn Van Refreshers.
Gallery
Trivia
Her design was made by Little Miss Sweets.
Smartiecat is like the Treat Zoomway version of Jinx.Both of them are flirts and date many different racers and they pick and tease on certain people.
Ad blocker interference detected!
Wikia is a free-to-use site that makes money from advertising. We have a modified experience for viewers using ad blockers

Wikia is not accessible if you've made further modifications. Remove the custom ad blocker rule(s) and the page will load as expected.