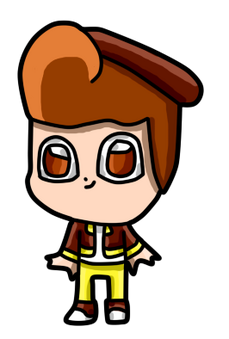 Snugglez Reesecupper 
is a Fanon Character. He's a racer in the game
Sugar Rush: New Generation'.
Character Bio
Snugglez, a simple and shy racer. Snugglez is known for being very shy, but he's still one of the best racers.
He is Rancis' cousin, so he and Rancis have a lot of common, like, they both have the same theme.
He likes to hang out with his friends, and he's also in love Popcilla Icebow , but he is too shy to talk with her, since Popcilla is one of the stars in the track.
This guy, is not afraid of losing a race, he simply wants to be happy.
He also likes playing with Claire. Actually, Claire is the only person Snugglez is not shy to. He and her are kinda best friends.
Gallery
Trivia
Ad blocker interference detected!
Wikia is a free-to-use site that makes money from advertising. We have a modified experience for viewers using ad blockers

Wikia is not accessible if you've made further modifications. Remove the custom ad blocker rule(s) and the page will load as expected.