This is Aly's interpretation of a Japanese Sticky Wipplesnit. Another version can be found here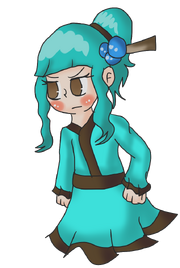 Sticky Wakatsuki
is the Japanese version of
Sticky Wipplesnit
. However, Sticky is not a recolor of Minty Sakura, as Sticky has obvious more differences than her. Sticky's best friend is an elder ninja and also her mentor (especially in racing), who is named Turbo-San.
Bio
Sticky Wakatsuki: The Sharpest Blade in the Dojo
"Sticky is often mistakened to be a Minty Sakura recolor, but that's not exactly what she is. She is a fun loving racer, who often looks up to her mentor for using a blade. But beware she gets cold as a freezer when provoked."
Status
Speed: 70%
Handling: 79%
Quirky-ness: 99%
Sweetness: 90%
Personality
Sticky is normally very shy and kind, quick to come to tears, and without knowing how to react to people in certain situations. However, as revealed, and later noted, her desire to perform kindnesses to others stems not only from a desire to gain honour from them, but also to gain the approval of those around, and to be seen as a good person. Sticky is kind and caring. She seemed to have acted as some sort of attachment figure for Turbo-San, as he was the one who taught her katana and racing skills.
Trivia
I imagine Turbo and Sticky being best friends, so of course Turbo would be her mentor.
Sticky is not a recolor of Minty Sakura. Of course she has a base design of her, but apperance wise, no she doesn't.
Gallery
Ad blocker interference detected!
Wikia is a free-to-use site that makes money from advertising. We have a modified experience for viewers using ad blockers

Wikia is not accessible if you've made further modifications. Remove the custom ad blocker rule(s) and the page will load as expected.