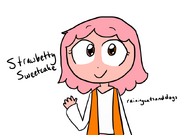 Strawbetty Sweetcake is a fanfiction character made by rainingcatsanddogs. Her theme is Strawberry Shortcakes and strawberry milk. Her signature kart is The Strawberry.
Offical Bio
"What do you mean I can't race?"
-Strawbetty Sweetcake
"For this girl, it's an entire world of sweets! She's one of the sweetest girls around; not to mention her love of racing. She may be new to Sugar Rush, and not very popular, but she may be first place if you count sweetness!"
Trivia
Like many other characters made by rainingcatsanddogs, Strawbetty is being edited. Her new bio is now up, and her picture is, too!
She is not a very experieced racer, as shown in Malissa's First Race, where she is hit by Taffyta at the very beginning of the race.
Strawbetty has heterochromia iridium, meaning she has two different colored eyes. Her right eye is pink while her left eye is orange.