Sugar Rush Speedway: Double Sugar Dash! is going to be a fan game created by Sweetellope.It is a spin off of Mario kart as well as Sugar Rush Speedway and will be set in a world of sugar,snacks and sweets.It will feature an array of fanon racers and also characters from the original Mario Kart.
Gameplay
Sugar Rush Speedway: Double Sugar Dash! will be an cabinet styled arcade game,similar to modern day racing games.It will be avalible to buy for handheld consoles later on though.The game may also be the main setting for an upcoming fanfiction,'Gamejumping adventures and more.'
Modes
Multiplayer
Single player
Online
Speedster
Characters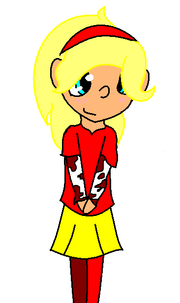 Power-ups
Sugar Cube (Speed boost,you get one or three}
Sweet Seekers
Jawbreakers (You throw these,you get one or three)
Mount Fuji Drop (Big speed boost,these get you ahead of most of the racers)
Honey (Goes all over the other players screens,obscuring their vision)
Gummy Star (Temporary invincibility)
Cups and Tracks
Cadbury Cup
Ad blocker interference detected!
Wikia is a free-to-use site that makes money from advertising. We have a modified experience for viewers using ad blockers

Wikia is not accessible if you've made further modifications. Remove the custom ad blocker rule(s) and the page will load as expected.