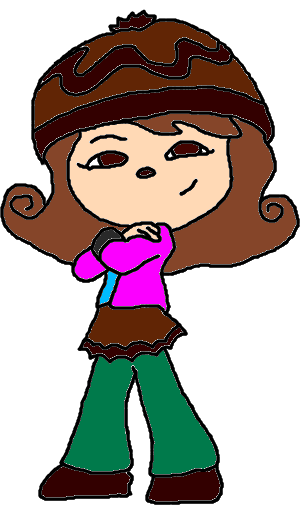 Sugum Flosstopop is a cute and refined girl that loves to make candies and bon-bons in rainy days. Sometimes, Sugum is called "Cloudeene", because she likes to stay in the rain. It's the only that she cans think. Her candy themes are lumps of sugar, gumdrops, lollipops and cotton canes and her kart signature is the Chewing Kart.
Biography
"A box of surprises"
This girl is very proud of herself, and don't like to avoid her friendships. She doesn't like to make jokes, because she doesn't like to hurt anyone. She is Minty Sakura's best friend. She, also, has a crush on Gloyd. On free times, she likes to go shopping. She's Galarettak's old sister.
Status
Speed: 90%
Sweetness: 70%
Handling: 65%
Special Power: All-sorted power ups
Trivia
Her fans are antropomorphic lumps of sugar.
Her plush is gumdrop scented.
She is considered the queen of the Spring, because she loves flowers.
She doesn't have the "Von Schweetz" in her name, but Vanellope von Schweetz is her second cousin.
Gallery
Names in other Languages
Language
Name
Meaning
French
Sucettalonne Pappatte
From "sucette" (lollipop) and "barbe á papa" (cotton candy)
Japanese

シュガム フロストポップ

Shugamu furosutopoppu

From English name
Brazilian Portuguese
Açúgoma Pirulito

From "açúcar" (sugar) united with "goma" (gum) or "goma de mascar" (chewing gum) and "pirulito" (lollipop)
Ad blocker interference detected!
Wikia is a free-to-use site that makes money from advertising. We have a modified experience for viewers using ad blockers

Wikia is not accessible if you've made further modifications. Remove the custom ad blocker rule(s) and the page will load as expected.