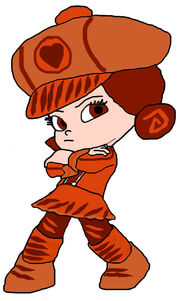 Suzie Sausage is a Meat feast speedway racer.
Biography
Suzie follows Laurasagne's orders,bullying Meat feast speedway racers all shapes and sizes,she seems not to care about anything
Stats
Meatiness 100%
Tastiness 99%
Rawness 35%
Cookedness 98%
Gallery
Trivia
Her design was made by RICHARD8bit.
Her clothes are made of sausage skins.
Her apperance is similar to Crumbelina from Sugar Rush.
Ad blocker interference detected!
Wikia is a free-to-use site that makes money from advertising. We have a modified experience for viewers using ad blockers

Wikia is not accessible if you've made further modifications. Remove the custom ad blocker rule(s) and the page will load as expected.