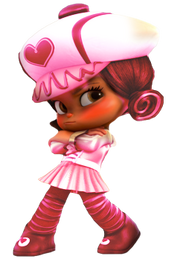 Sweettooth Treat is Pinky Treat's older sister.For a recolour,she is quite bossy and has a temper on her,she get's tormented by Fantasmicia Orangey,Freeda O'Caramel and Creamila Freeze for being a recolour,but Sweettooth does not care she just replies back with a sarky comment and walks off.
About Sweettooth and Pinky
Sweettooth cares for her little sister so much,but Pinkie get's bullied for being a recolour of a recolour,but Sweettooth always comes to the rescue.
Ad blocker interference detected!
Wikia is a free-to-use site that makes money from advertising. We have a modified experience for viewers using ad blockers

Wikia is not accessible if you've made further modifications. Remove the custom ad blocker rule(s) and the page will load as expected.