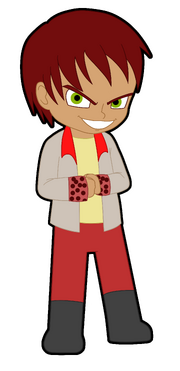 Teason Bubblemash is a character from Sugar Rush Reloaded and is from the story's version of Sugar Rush 2. His theme is bubble tea and his kart is the Teasplosion. His personal track is Sweet Tea Meadow.
Bio
Teason Bubblemash: "Don't Mess with Him!"
Teason is without a doubt the angriest and most reckless racer there is. He doesn't care who he hits- get in his way and you're dead! If you as much as look at him funny, you better hope to have a super fast kart.
Appearance
Personality
Story
Kart
His kart is the Teasplosion.
Special Ability
Relationships
Theme
Teason's theme is bubble tea.
Trivia
Ad blocker interference detected!
Wikia is a free-to-use site that makes money from advertising. We have a modified experience for viewers using ad blockers

Wikia is not accessible if you've made further modifications. Remove the custom ad blocker rule(s) and the page will load as expected.