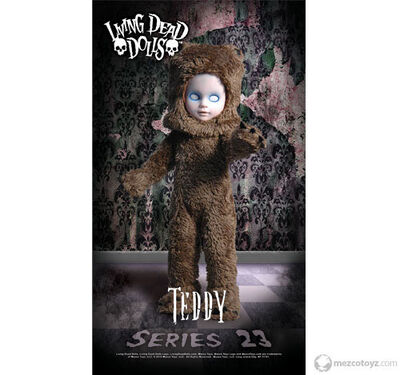 Teddy is a racer in the Living Dead Raceaway (Game). He is unlocked in Killer Pixie Bay. His best friends are Jennocide and Agatha. His racing kart is called the Freaky Stuffing. He bullies Betsy, because Betsy is a glitch.
Death CertificateEdit
Teddy got bit by an odd kid on the playground
Winds up the kid was dead but still walking around
So now Teddy is also a zombie boy
Dressing like a bear is what he enjoys
Biography
Teddy:The death-causing cuddler!
Teddy with tears in his eyes ran and ran after he died,after that zombie boy bit him and made him die,he ended up in the Living Dead Raceaway,and found his place,first sometimes,maybe even eighth.Adorable little Teddy made friends with Jennocide and Agatha their friendship last forever and ever,and he also is out to stop the zombie glitchie from racing,because he wants his first place!
Teddy's racing kart
Teddy's racing kart is called the
Freaky Stuffing
,it is a firey-orange and it has black carved pumpkin faces on the wheels,it's wheels are made of Halloween candy (to be specific,orange flavoured candy cane) it has black Halloween decorations on the front,it has three grey gravestones made of stone,with red blood pouring down them.On the wheels there is blood to make the black pumpkin faces look like they have bear-ears.
Memroble Quotes
Erm...Is that what I think it is?!
J-J-Jennocide look I am gl-glitching!
THE ZOMBIE GLITCHIE!!!!!!!!!!!!!!!!!!!!!!!!!!!!!!!
AHHHHHHHHHHH!
Trivia
Some people mistake Teddy for a girl.
His voice seems to be British.
He has a very similar story line to Rancis Fluggerbutter from Sugar Rush.
His racing kart,also known as the Freaky stuffing,is a firey reddy-orange of Rancis' Kit Kart.
He died by getting bitten by a zombie boy in the park.
Gallery 
Merch Gallery
Ad blocker interference detected!
Wikia is a free-to-use site that makes money from advertising. We have a modified experience for viewers using ad blockers

Wikia is not accessible if you've made further modifications. Remove the custom ad blocker rule(s) and the page will load as expected.