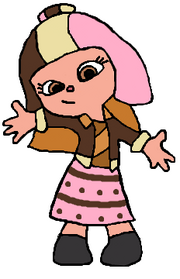 Toffeefi or just "Toffy", is a happy, energetic and a perfectionist racer. Almost everyone confuse your winter flap hat with your hair. She is also, Galarettak's girlfriend. Her candy themes are caramels, neapolitan ice cream and the candy Toffifee and her kart signature is the Triple Flaveaur.
Biography
Toffy is a racer that loves to surf in the Whipped Creams Oceans. Surf is her life, her dream. Her wish. Her father is Galarettak's father's best friend. She and Adorabeezle are very best friends. This girl never stops to make new friendships.
She participates of the game "Forza Male" too. And she also, receives her super-powers:
Illusion Mode (can transform into anything)
Snow Powers
Flash Mode
Wind Powers
Status
Speed: 70%
Sweetness: 90%
Handling: 60%
Special Power: Mixed Way
Trivia
Her plush is neapolitan ice cream scented.
Her fans are Beijinhos (brazilian birthday dessert).
Gallery
Names in other Languages
Language
Name
Meaning
Finnish
Jäätelynna Kolmepitää
From "jäätelö" (ice cream) and "

kolme" (three) united with "tyypit" (types)

Brazilian Portuguese
Caramella Napolitano
From "caramelo" (caramel) and "napolitano" (neapolitan)
Russian
Тоффина Троинивкус
From "тоффи" is a transliteration of "toffee" and "тройной" (triple) united with "вкус" (flavor or taste)
Japanese

トフィーフィ ネオポリタナ

Tofīfi neoporitana

From English name
Ad blocker interference detected!
Wikia is a free-to-use site that makes money from advertising. We have a modified experience for viewers using ad blockers

Wikia is not accessible if you've made further modifications. Remove the custom ad blocker rule(s) and the page will load as expected.