Vanessa Von Twister
is a fanon Sugar Rush character created by
VanellopeVonSchweetzFan
. Her theme is gummy blue candies. She is the leader of Sugary Girls club, and her signature kart is the Gummy Twister.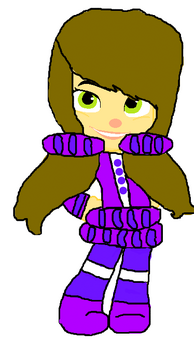 Appearance
Vanessa was a racer with a black long hair, a blue to purple hat like Taffyta's hat, purple shirt, blue to purple jacket, and teal skirt. She has blue to purple and purple socks (also shoes).
Biography
Vanessa Von Twister: A Not So Happy Gummy Head
"While in her pose she looks happy, she is a not so happy gummy head, that's actually a rock pop racer and not so happy looking. She was called the So Not Happy Gummy Head because of that."
Story
Vanessa was a happy thingy for just her pose, but longer and longer likes smirking and other so not happy emoticons. She's serious and also bullying like Strawbetty Muttonfudge, but not with her fellas such as Purpledith Strawcandace and Glaze Wonderglitter. When they are close together sometimes being a bully. Vanessa becomes like that instead, but not acting as a happy person. She was not pretty sweet, actually, but only for poses she just smile. The thing that can cause a racer becomes a smirky people like Vanessa, was just a chemical thingy. First day when Vanessa gets into Sugar Rush she is happy, but then an unknown person that loves to change people's mind sneaks and splashes the chemical to Vanessa's head. Now her mind becomes a chemical head, but longer she does normal things instead. Her eye was just too cold to see racers, like hating on people but actually not. This chemical does make her wild and Vanessa decided to lead a spyful club, it's Sugary Girls. Only, at leading she was so serious and doesn't have time to make something funny. Like Purpledith, she also loves spying. But this was a mystery, why Vanessa doesn't turn into a chemical racer that's dangerous but living normal. It was spoken by racer to racer, but so far they do not care about it. That is forever, forever, and forever being a mystery.
Vanessa was also smart, intelligent, but her seriousness sometimes doesn't make fun. Rare days she's going to smile. But, she was not Queen of Darkness.
Trivia
Her old design was Claire Gummy-Goober's design that Wreck-ItEve105 gave to VanellopeVonSchweetzFan.
Her previous name was Violet, then Violetta Thunderrumble, Violetta Blueberrytart, and then Vanessa Von Twister.
She will appear in an upcoming fanfiction, Sugar Rush 2nd Dimension.
She will appear in Sugar Rush: New Generation.
Gallery
Ad blocker interference detected!
Wikia is a free-to-use site that makes money from advertising. We have a modified experience for viewers using ad blockers

Wikia is not accessible if you've made further modifications. Remove the custom ad blocker rule(s) and the page will load as expected.