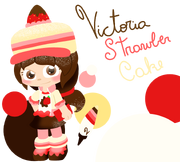 Victoria Strawber Cake, or just 'Strawber', is an unlockcable player alongside Jonathan Jelly Bean-o. She is a skilled artist but her driving stats are neutral. She is based on Victoria Sponge Cakes, her fans are little cupkaces with white frosting and pink sprinkles, and her kart is called the "Berry-Licious Rider"
Bio
"She might look feminine and sweet... but be warned! Victoria can be a bit fierce when angered or when trying to protect her friends, so she's not the best one to joke with. This young artist keeps her feet on earth and always tries to do the right thing. When she's not at the racetrack or spending time with her friends, Victoria is likely drawing somewhere in town"
Appearance
Victoria's skin is a fair peach colour and her blush is a soft pink tone while her eyes are chocolate brown. Her hair is brown and long, and the top side of it is covered with sugar sprinkles; Victoria ties her hair so it won't bother her while drawing. She wears a Victoria Sponge Cake hat with an chocolate covered strawberry and pink forsting on top. Victoria's blazer has got shorter sleeves than average (Again, to make sure it won't bother her in case she want to paint something). She wears a simple white-pink blouse with drawings of a chocolate stain and a strawberry. Her skirt is brown with sugar sprinkles on a side, her leggings are light pink, her socks matches her hat and her shoes are brown with stains of jam.
Role in the game
When she was unlocked Victoria wasn't a big fan of races to be honest, she only cared about drawing and improving, this leading her to distance herself from the rest of the racers. She was ok with being alone, but then she met Jonathan who quickly considered her a friend. Jonathan's jolly and innocent attitute conviced her to try and befriend the other racers, and it actually worked! She now shows up the the races to both compete and watch- both options are great way to get inspired for a new drawing! She's got a boyfriend called Callin Stripeckle.
Kart
Victoria's kart is basically a piece of Victoria Sponge Cake, with jam filled sugar cookies with a few berries, whipped cream and two vanilla sticks as decoration at the back of the kart. The kart's speed, handling, and sweetness can be considered neutral.
Galle

ry
Ad blocker interference detected!
Wikia is a free-to-use site that makes money from advertising. We have a modified experience for viewers using ad blockers

Wikia is not accessible if you've made further modifications. Remove the custom ad blocker rule(s) and the page will load as expected.