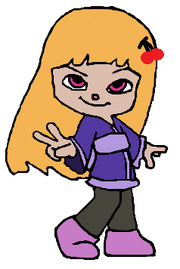 "I'm with the cherries on you"- Violoblossom's catchphrase
Violoblossom or just "Purpy" is a fearless girl and also very cute. Her hobbies are read japanese poems in the Sakura Trees Forests and make "Tea parties". Her candy themes are the candy Parma Violets and cherries and the kart signature is the Blowssom Speeder. She is a new racer in the Sugar Rush Japan. This character has been created by the user Toffetia123. 
Biography
This girl will explode at the start line of the race every time. She is dating Tohatanno Meijeana, because both they are japanese racers. She also loves to sing in the Karaoke Clubs.
Status
Speed: 90%
Sweetness: 100%
Handling:80%
Special Power: Sakura Rockets
Trivia
Her fans are antrpomorphics violet flowers.
Her plush is Sakura scented.
Her name, in Japan, is written: バイオロサクラ/"Violosakura"
Gallery
Ad blocker interference detected!
Wikia is a free-to-use site that makes money from advertising. We have a modified experience for viewers using ad blockers

Wikia is not accessible if you've made further modifications. Remove the custom ad blocker rule(s) and the page will load as expected.