Wipeout: Sugar Rush
is a game by 
Annie Jaubreaker.
 It is a game where you have to go through an insane obstacle course.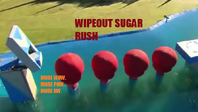 Playable Characters
Starters
Season 1
Unlockable in "Time for Wipeout"
Strawbetty Muttonfudge (qualifier)
Twister von Schweetz (sweeper)
Fizzabella Bubblebang (dizzy dummy)
Riceyne Swhites (wipeout zone)
Unlockable in "Whoppy Wrecky Balls"
Poppy Gummy-Goober (qualifier)
Wendydale (sweeper)
Vanessa Von Twister (dizzy dummy)
Heather Gumbears (wipeout zone)
Unlockable in "Twister Von Sweeper"
Borovnika Sugerplum (qualifier)
Sweetiebelle (sweeper)
Melissa Gummy-Goober (dizzy dummy)
Anton McToast (wipeout zone)
Unlockable in "Candy Cane Pain"
Digestiva Biscuiteata (qualifier)
Swirla McMint (sweeper)
Clavata Candille (dizzy dummy)
Twirlet Bassetto (wipeout zone)
More seasons coming soon.
Plot
It was just a normal day in Sugar Rush. Suddenly, a big candy supply crate fell out of nowhere. Everyone, even the mean racers, tried to open it. After minutes of work opening it, all except one, Twister von Schweetz, gave up.. She did the tiniest little touch, and it opened. It created a whole new world of obstacle courses. Racers could even make their own. When the arcade opened, Sugar Rush was being checked my Mr. Litwak. The game was unplugged for 3 weeks because of planning for the new game. The racers were bored, and some drew sketches on what their course would look like to cure their boredom. After 3 weeks of being unplugged, the Sugar Rush gate was finally opened; renamed to Sugar Rush Wipeout. It was so fun, some would even game-jump to it time after time.
Make Your Own Course Setting
Players can make their own courses, whether it's Big Balls with a Sweeper or Up and Down Candy Hoops.
More info coming soon.
Ad blocker interference detected!
Wikia is a free-to-use site that makes money from advertising. We have a modified experience for viewers using ad blockers

Wikia is not accessible if you've made further modifications. Remove the custom ad blocker rule(s) and the page will load as expected.