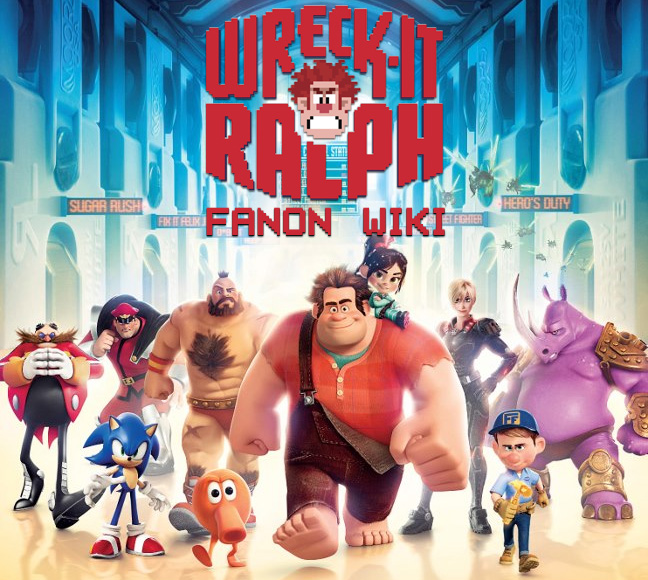 Welcome
This Wiki talks about the adventures that happen in Litwak's Arcade. There will be new characters and games added by fans to the arcade. You can help too, by creating your own characters, games and fan fictions. Let your creavity fly as you create a new page!
Sister Wiki
Please keep all the canon and factual information about WIR in the canon Wiki. This Wiki is a fanon wiki, so please make sure to not only add fan speculation and headcanons, but also characters, games, fanfictions or any other kind of media, as long as it is related to WIR and is made by yourself.
News
February 14: Happy Valentine's Day!
January 6: More rumors about Wreck-It Ralph 2 begin to arise!
January 1: Happy New Year!
December 29: Our administrators Killer365 and Peppermint Princess got promoted to bureaucrats! Monster High Vs Bratzillaz XD, Sugarrushfan2 and Ami670 also got promoted to aministrators!
December 25: Merry Christmas!
December 24: Merry Christmas' Eve!
November 29: The old Message Walls were replaced with Talk Pages! Read more here.
November 23: Sign-ups for our Pokémon Showdown tournament are now open! Read more here!
November 9: Check out our new Roleplaying Chatzy room!
November 2: Check out our new userboxes!
November 1: Vote whether to keep the old galleries or activate the new ones here!
October 31: Happy Halloween! Be sure to get some candy and sweets for yourself!
October 29: Happy 2 year anniversary, Wreck-It Ralph!
October 26: Voting for the Chat mod elections has finished! Congratulations to Pikabear900 and Astrofan1, our new Chat moderators!
October 18: Check out the full list of categories for the future wiki awards here!
October 11: Chat moderator elections have begun! Vote here!
October 9: Check out the wiki's new rules and vote whether to keep or remove Message Walls here!
Affiliates
Make sure to check out our affiliates! If you're interested in affiliating with Wreck-It Ralph Fanon Wiki, please contact an admin or leave a request here.

Poll
What is your favorite part of being a fan?
Statistics
1,779 articles since November 11, 2012.
7,079 files uploaded.
17 active users this month.
Chat
Plug In
Helping Hand
The Wreck-It Ralph Fanon is always looking for help. 
If you visit the Fanon, please contribute. There are many ways of helping; you can create your own characters, games, fan-fictions and any other kind of media, as long as it is related to WIR.

If you are not really into creating fanon stuff, you can always help out others by fixing grammar and adding pictures to pages.

Here is an easy way to get started with creating your very own fanon stuff.